#FFFFFF
Events
Health Cabinet Affordability Summit - March 15, 2023
Thank you to the ~700 attendees who joined Lt. Governor Primavera, Health Cabinet executive directors and industry leaders at the Health Cabinet Affordability Summit on March 15, 2023. We appreciated participation of policy makers, advocates, payers, care providers, health care leaders and other industry stakeholders. Topics included advancing rural hospital supports, prescription drug affordability, hospital affordability, Keep Coloradans Covered through the end of the public health emergency and value based payments. 
Audience members shared:
Participants are excited about making prescription drugs more affordable through: spread pricing prohibition (23%), prescription drug affordability board (22%); value based contracting (14%), the prescriber tool (12%) and rebate pass through (7%).
To help Keep Coloradans Covered, 36% said they will remind Health First Colorado members to update their contact information, look for and complete renewals; 25% will join the webinar April 26 about preparing for the end of the Public Health Emergency continuous coverage, and the remainder said they will provide coverage information, conduct outreach and proactively remind employees to enroll in health coverage. Thank you, state agencies, contracted partners, providers, community partners, counties, Regional Accountable Entities, Connect for Health Colorado, consumer advocates, health plans, and others for your collaborative, united efforts to Keep Coloradans Covered. 
To promote healthier outcomes, reduce disparities and drive affordability, 35% said they're most excited about the hospital transformation program as a strategy to advance value based payments; 33% are most excited for adult primary care capitation; followed by a pediatric alternative payment model (27%) and maternity bundle (26%). More on these programs are on our Value Based Payments page.
Health Cabinet Policy Summit - March 24 and 31, 2022
We heard from the audience:
91% said it's critical for all of us to work together through the end of the public health emergency to keep Coloradans covered.
78% said that if another booster in the series is recommended by the CDC for their age group, they would definitely or likely want it.
80% are very concerned about affordability or it's their top concern. 53% are most concerned about hospital costs followed by prescription drug costs (46%).
37% said price reductions is their top priority for how hospitals spend down excess reserves; 35% said workforce expansion/wage increases is top priority; 24% said community investment.
50% said behavioral health is their top priority for hospital community benefit investments; 27% said health disparities; 16% said housing & supports for persons experiencing homelessness.
Affordability Matters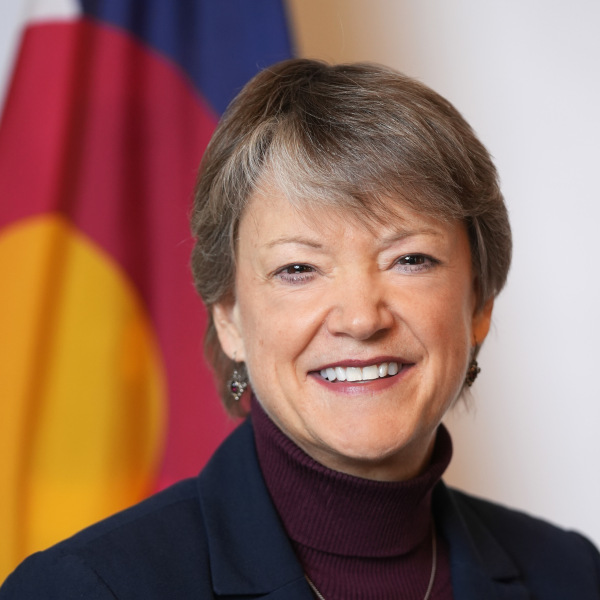 Kim Bimestefer, Executive Director
The Department of Health Care Policy & Financing (the Department) provides health coverage to low income and disabled Coloradans through safety net programs like Health First Colorado (Colorado's Medicaid program) and the Child Health Plan Plus (CHP+). With the economic impact of the novel coronavirus disease (COVID-19) pandemic, the Department is covering more Coloradans than ever -- over 1.4 million, representing almost one in every four Coloradans. Given that, it is no surprise that the Department is projected to consume 29% of the State's general fund budget and 35% of total state funds (total funds include federal dollars) in the 2021-2022 fiscal year.
Carefully controlling our health care expenditure helps protect our programs, cover all Coloradans who qualify and ensures the state can invest in our schools, roads and infrastructure, parks, programs for older adults and people with disabilities and more.
Addressing health care affordability is not only critical to the state government, but also to those served by our safety net programs. It is also a top concern for Colorado families and businesses. For this reason, Department leadership and staff leverage our expertise, influence and not-for-profit values to drive health care affordability measures that will benefit all Coloradoans, not just Department programs.
As part of Gov. Jared Polis's Wildly Important Goals to improve health care affordability for all Coloradans, he created the Office of Saving People Money on Health Care (OSPMHC). He appointed Lt. Gov. Primavera, who leads the Health Cabinet, to spearhead the work. Department leadership is an active and engaged member of the Health Cabinet and a significant contributor to the affordability agenda, work and results.
The Department is working in collaboration with the Health Cabinet on goals and key strategies to achieve Health Care Affordability for Coloradans, which is one of the Department's five strategic pillars.
Below are some of the key strategies to improve health care access, affordability and patient outcomes.
Community Partnerships
The Department is partnering with communities, employer organizations and consumer advocates to identify and implement shared strategies and innovations to reduce health care costs.
The Health Care Affordability Toolkit on this site is designed for Colorado communities to select and adopt tools to help achieve health care cost savings within their community. Since all health care is local, and each community has their own unique set of challenges, the Department has offered leadership, project management and data/research resources to support customized community affordability efforts. The Department has outlined a set of priorities and actions that you can take which can be found in the New Normal Fact Sheet. Those interested in working with our Affordability Team on creating a plan to improve affordability in their community, contact the team.
Collecting Data on Health Care Costs
All-Payer-Claims-Database (APCD): The Colorado APCD collects data on claims paid from Medicare, Medicaid, commercial insurance carriers and some self-insured employers. The APCD aggregates this information into meaningful reports and tools. This data is essential to support high quality, accurate reporting and health care affordability.
Shop for Care: Consumers and purchasers can use the Shop for Care tool to show the average cost of many different procedures and their quality scores for every hospital and health facility in the state.
Best-Practices for Reducing Health Care Costs
Evidence-Based Reports
Health care is an incredibly complex industry, which makes it harder to identify sound affordability solutions. To help facilitate affordability dialogue between communities, businesses, providers, policy makers and other stakeholders, the Department produces evidence-based reports to illuminate the drivers of rising health care costs and the possible solutions to address them. Reports include:
The Affordability Toolkit
The Affordability Toolkit is designed to assist Colorado communities in selecting and adopting tools to help achieve health care cost savings within their community. The Toolkit is segmented into five areas to help users zero in on areas most relevant to their community. These tools include fact sheets on Department initiatives and reports to inform and spark action, and information on Affordability programs and policies, both current and upcoming. Communities are welcome to then review and select the tools right for them.
Hospital and Health Care Costs
Pharmacy Costs
Innovation and Technology
Delivery Reform, Alternative Payment Models
Population Health and Behavioral Health
Affordability Slide Deck Presentations
Affordability Toolkit: Additional Research and Resources
Saving People Money in Colorado
Community Data and Reports
Colorado Health Institute

Community Health: 2019-20 Needs, Improvement and Assessments:

See how Colorado ranks nationally in health:
National Reports on Affordability