Last updated: 8/23/2023
Procurement documents are not available on this website. All official procurement documents are available on Colorado's statewide procurement website.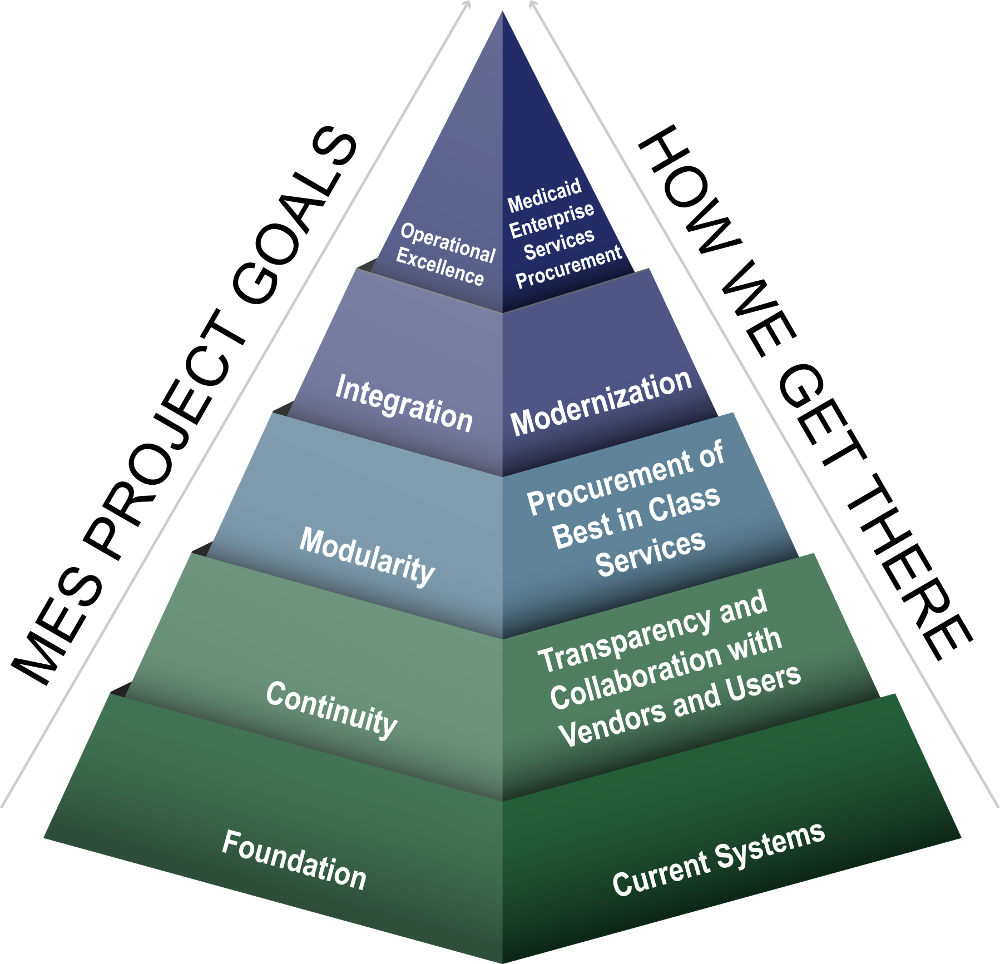 The Colorado Department of Health Care Policy & Financing (HCPF)  is procuring Colorado Medicaid Enterprise Solutions (CMES) contracts to achieve the goals highlighted in the CMES Pyramid:
Continuity
Modularity
Integration
Operational Excellence
HCPF is required by federal and state regulation term limits to solicit competitive procurements every 10 years.  
The following CMES contracts are in various phases of procurement: 
Medicaid Management Information System (MMIS) 
Business Intelligence and Data Management (BIDM)
Pharmacy Benefit Management System (PBMS)
These procurements will enhance the CMES foundation implemented in 2017, by adding a service delivery model that is flexible and adaptable. The updated modular components will provide modern and interoperable capabilities to HCPF members, providers, stakeholders, and staff.
More CMES Information
For the most up-to-date information about each procurement, please visit the appropriate page.
Send comments, feedback and questions to:
HCPF_MESProcurement@state.co.us
Stay up to date with procurement and other project updates by completing this form and selecting "MES Procurement Updates".
Procurement Overview
CMES solicitations are being conducted through either an Invitation to Negotiate (ITN) or Request for Proposal (RFP) process. The new ITN process allows each solicitation to separate system and operational modules, which can then be awarded to different vendors, based on the best technology/solutions available to meet HCPF needs. The ITN process allows for more flexibility in selecting the best services and vendor(s) for each CMES component.
For more information about procurement, visit the State Purchasing & Contracts Office website
COMMIT Archive - Documents related to the previous procurement process