Last updated: 5/15/2023
Providers may follow the instruction below to pay an enrollment application fee previously waived during the public health emergency (PHE) if required for the provider type.
1.    Log in to the Provider Web Portal and click "Provider Maintenance". Click "Provider Maintenance" again.
Note: The application fee is paid on the "Attachments and Submit" panel, which will be greyed out by default upon initial login.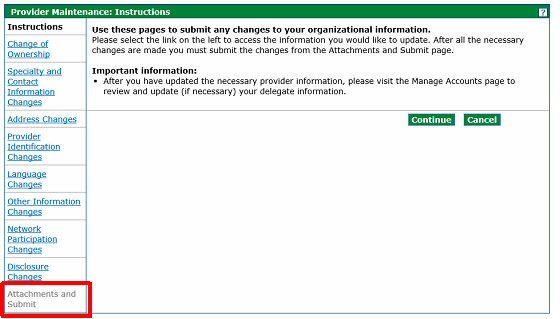 2.    Complete any other maintenance updates that may be needed. If only paying the application fee, select any panel from the left navigation pane and then click "Go to Submit." In the example below, the "Language Changes" panel was selected.
 
This action will activate the "Attachments and Submit" panel. Click "Attachments and Submit".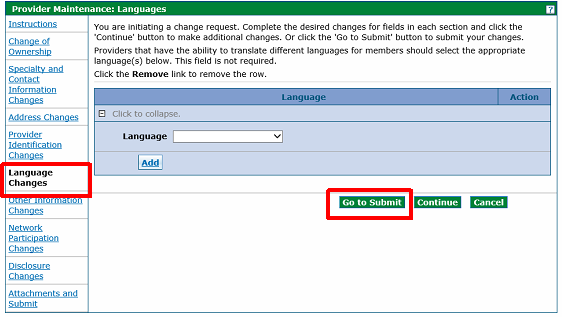 3.    Upload any attachments required for maintenance updates. If only paying the application fee, complete the "Application Fee" section, to include clicking the "Online Bill Pay" link to make the payment.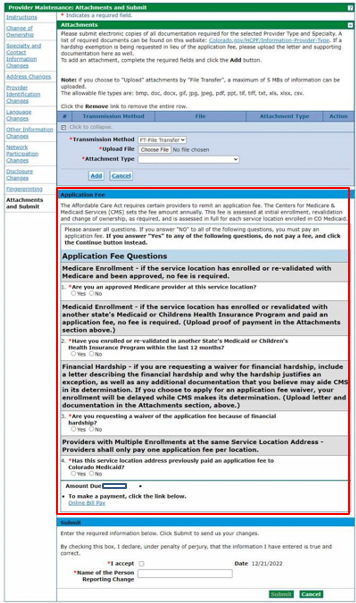 4.    Under the "Submit" section, click the "I accept" checkbox, and enter the name of the person reporting the change. The "Submit" button will activate. Click "Submit". An auto-generated tracking number will be generated. Retain the tracking number for your records and to check the status of the request.

Need More Help?
Please visit the Quick Guides web page to find all the Provider Web Portal Quick Guides.